TOP BUSINESS SCHOOL IN BANGALORE
ISBR : One of Top Business Schools in India
ISBR Business School, one of top business schools in India takes pride for creating an atmosphere wherein both students and faculty can pursue boundless knowledge, a single roof where theory and practice goes hand in hand to present better understanding about oneself and world around him. Education at ISBR prepares you to think boldly and act confidently in any business environment. At ISBR the focus goes beyond education. ISBR aims to prepare students for life - Making them a Leader.

The success of ISBR as an acknowledged institution for quality learning is an outcome of the various facets that give ISBR its characteristic value - the faculty, enterprising students, infrastructure facilities and industry partnerships.

We welcome you to be a part of this ranked institution.
Explore Programs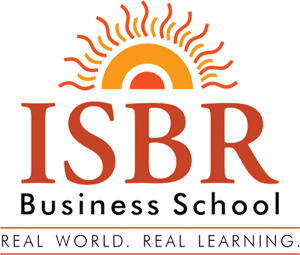 ABOUT ISBR B SCHOOL
ISBR Business School, Bangalore, established in 1990 is one of the fastest growing business schools in the country.
Has been consistently ranked as 'Bangalore's No. 1 Under New Generation B-School' by DM B-School Survey.
Awarded as Best B-School Campus Excellence Award (south India) by Discovery Education.
ISBR Ranked as Platinum Rated by AICTE-CII survey 2017 & 2018.
Its vision is : To nurture holistic, socially responsible and continuously employable professionals.
It is ranked in India's Best B-School by Dalal Street Journal Group for 5 Consecutive years.
Approved by All India Council for Technical Education (AICTE).
Key Strength
The Trust has achieved 28+ years of excellence in Teaching, Research and Consulting.
9800+ Alumni working in all over the globe.
150+ Companies from 15+ sector for Placements.
8+ Partner Universities Abroad-UK, France, Singapore, Dubai, Australia, Germany, US.
Ranked among Top 1% B-School Brands of India.
Ranked 12th Best B-School in South India.
AICTE and UGC approved.
Official Website ISBR - Url : www.isbr.in